About Us
Has anyone ever told you, " you have a great face" or an "unusual look". If so, this is the place for you to expose it. Casting Directors are constantly looking for people who have a certain look or style, to cast as extras in films and tv.
StarsOnLine allows extras to be electronically submitted by talent agents to casting directors. It also allows the casting director to search the database of extras any time. An extra's headshot (black and white) and resume are instantly accessible to casting directors.
You don't have to have a talent agency represent you to be a member of StarsOnLine. We believe that everyone should have an equal chance in becoming an extra. By being a member, you expose yourself to a greater number of opportunities, since your isn't sitting in one talent agency book, but its on the web where it can be accessed 24 hours a day - 7 days a week by any casting director.
StarsOnLine is currently in the Vancouver and Victoria marketplaces. StarsOnLine is a working extras database. If you are committed to getting experience as an extra to go on to an acting career, or just want to try your hand at it and have fun, we encourage you to explore this site and contact us with any questions or comments.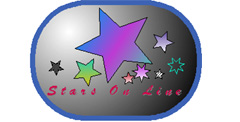 Note: you may need to reload this page to see the most recent additions.
---